Discover more from Pluripotent
Essays on human nature, purposeful living, and creativity.
Over 4,000 subscribers
---
ANNOUNCEMENT: I've been creating a 12-week guided journal which will be out next month! Scroll to bottom for details.
---
I rarely talk about my ambitions.
The way I work is a lot like aging wine. Ambitions are sealed and well-kept so that something delicate and valuable is guaranteed to debut when the barrel is reopened. I don't like sharing plans for what I'm about to do; I believe that it will spoil the fermentation process—and good ideas need to ferment.
Needless to say, I've always been more introverted. For me, most of the universe happens inside my own skull. For me, this is how I execute. This is how I act in the world. This is how I get stuff done. This is how I work.
But why I work is a completely different topic, something I first started thinking deeply about when I attended a silent retreat in 2019. It was only three days short but it taught me everything I know today about taking care of myself and the people around me.
Aside from the silence that was promised and enforced, the retreat also consisted of labor. Cleaning the oak railings of the stairs, sanitizing the marble kitchen countertops, watering the plants—chores, at most. In a way, silent retreats have quite the smartest business model ever because people were paying to shut up and scrub your floors.
But beneath the joke lies an interesting phenomenon we don't talk about enough: we put in more work when we feel like what we're doing is traded for an end goal. Work—I mean any sort of exertion of labor, not just occupation—is seen as a means to an end. I do [task] to receive currency, recognition, prestige, love, and/or some other reward in return. Partially, I think this might be rooted in the effects of the Industrial Revolution, which made our identities become more defined by and entwined with what we do for a living. Today, many of us are our jobs.
Work is what we avoid whenever possible. It's the thing we just have to get over with. The end of work is where we get to change into sweatpants and truly enjoy ourselves. Leisure is the pot of gold at the end of this unpleasant rainbow.
But what if work isn't a means but an end in itself? How so? Why? And even if that's true, how can we rewire our mindsets to believe this? After all, asking the average employee to work on holidays elicits no natural or intrinsic excitement without the promise of extra pay. We conflate work with torment and leisure with happiness. Work is a necessary evil, not an inherent good.
When we believe that work is a means and that its terminus is where we can 'live and let be', we create the false illusion that obligation and privilege are two opposite ends that could never overlap. To say that something can be both an obligation and a privilege sounds contradictory because work that I must do can't possibly be an act of leisure, let alone a special advantage.
But a simple attitude switch is what makes all the difference.
When 'I HAVE to' turns into 'I GET to', duty becomes our delight. It's a privilege to be of service. Heck, waking up alive and healthy is a privilege all by itself. It's a gift to have hands that get to make dinner for the family. It's a gift to have a heart that gets to be compassionate towards others. Whether it be in the form of homemaking, being the family's breadwinner, caring for the elderly, or teaching a child how to play the piano, being of service can be both an obligation and a privilege.
It's funny how we pay retreats just so we can do grubby chores we don't even bother doing for ourselves in our own homes. When it comes to our own lives, we shrug off the importance of delicate maintenance and consistent care that's required for something to grow. Cleaning the kitchen of a retreat center is sold as a privilege, but doing the same thing for our own homes feels like an obligation.
Why? Because we forget that we're just as deserving of care as anyone and everyone else. You—the self that you call yourself—are also a person who needs your service. In fact, they need it the most:
But why is it so hard to do the same for the person you've known the longest, someone you have to spend the rest of your life with? Why is it so hard to see the best in that person, someone who has managed to survive the worst and has carried you to your best? Why is it so hard to encourage that person when they benefit the most from your successes? Why is it so hard to love yourself and treat yourself with such kindness, the person who needs it the most?
The ultimate goal of silent retreats, meditation, or any variation of practices on mindfulness is for use to spiral into a deep inner peace, look inwards, and realize this.
Start seeing life as being more precious and more worthy of care, especially your own care. Never discount that. Only when we realize how lucky we are to be here at all, how infinitesimally rare it is for us to exist in the first place, how life is a grace drawn forth from nothing—that's when we see how all the labor that goes into everything we do is a privilege in itself.
Life is work, so let everything you do be a work of love. Only then, do obligations and privileges become one.
~
Until next time,
Sherry
---
⭐
Announcement:
I will be launching The Happiness Journal in late-June 2023 (about a month from now!).
The Happiness Journal is a 12-week guided journal with daily AM & PM prompts that encourage you to pay attention to your thoughts and be intentional with your actions. At its core, it's about living purposefully—and the way to do so is by being grateful in our hearts, earnest in our minds, and courageous in our creative endeavors. Details:
84 days of guided AM & PM journalling

Daily quotes on joy, serenity, inspiration, and motivation

12 "Weekly Wisdom" passages at the beginning of every week (written by me)

Clothbound hardcover with a satin ribbon bookmark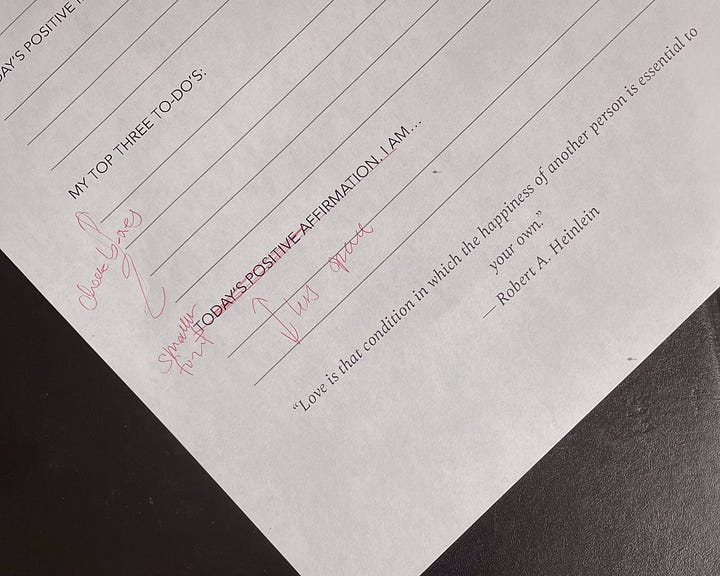 Paying subscribers will be receiving a 10% off discount—thank you for being my earliest supporters. A code will generated and shared in a paid-only Q&A post closer to the launch date.
---
Thank you for reading Pluripotent. There's good stuff on the way…to receive them in your inbox 💌 :